A History of Spyder:  The Original Spyder Man
David Jacobs—The Founder of Sypder:
Born October 1, 1933 in Montreal, Canada, David Jacobs began his skiing at age thirteen. His first race was at age eighteen. At twenty-one, he won the Quebec Kandahar, proving that he was on the fast track to becoming a nationally competitive skier.
Obtaining his Bachelor of Science degree in mathematics from St. Lawrence University and spending one year studying mechanical engineering at MIT proved only to be distractions from his skiing.
In 1957, David captured the title of Canadian Downhill Ski Racing Champion. From 1957 through 1961, David was a member of the Canadian FIS Team.
Unfortunately, he was forced to withdraw before competing in the World Championships at Badgastein, Austria when he fractured his leg during a downhill training run.
As the first full-time head coach and program administrator for the Canadian National Ski Team from 1964 to 1966, David continued his contribution to the sport at the national level.
From 1966 to 1969, David was President of Lange-Jacobs Inc., the manufacturer of Lange plastic ski boots in Montreal. After that company merged with Lange USA in 1969, he moved to Boulder, sat on the board of directors and was the company's Vice President from 1969 to 1972. During this time, he designed the first Lange competition ski boot, which became the hallmark of World Cup ski boots.
In 1972 David founded The Jacobs Corporation, producing Hot Gear, a line of up-market children's ski clothing.
In 1978 he founded the Spyder brand. It began as a small mail order business from his kitchen and became the multinational ski apparel giant that it is today
The company's name was coined after one of Jacob's early creations; navy blue racing pants with yellow foam pads extending from the knee to the hip. "Everyone called them spider pants," Jacobs recalled. "When I decided to produce my own race clothing I thought of using spider, but why not spell it with a 'y' like the Ferrari Spyder? Besides, I hate spiders. The most ominous and frightening thing to me is a black widow spider. So that had to be my logo. I figured if I hated them so much, people would look at the clothing and never forget it. I wanted something powerful and menacing, a lasting image"     (Ski Tech, Jan/Feb 1988)
For two years, Spyder operated out of David's kitchen. At the end of two years, sales were in the six figures and Jacobs' kitchen was too crowded.As the desire for high-end skiwear and high-tech items spread to recreational skiers, Spyder's sales flourished. Today, only 10% of Spyder's market is composed of racers and 90% are recreational skiers.
<p
A Look Back
1970: The Racing Decade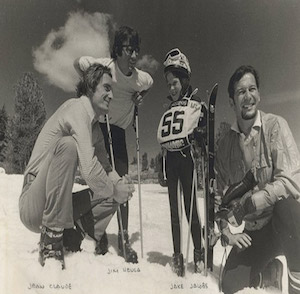 During the 70's famous racers on the pro tour wore Spyder. Founded by former U.S. coach Bob Beattie, the pro tour's big money purse attracted top competitors like Jean-Claude Killy, Jimmy Heuga, Hank Kashiwa, and Billy Kidd. "It put a stamp on our credibility," David said.
1977: First Brochure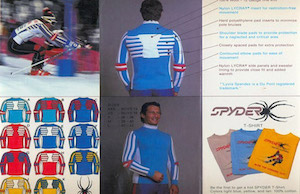 While David Jacobs' young sons were in the ski race circuit, he noted there was only  one brand of race sweaters available. He knew he could make a better product and sell it to the close-knit race community. David L Jacobs, Incorporated, began as a small mail order business 'for racing, by racers'.
1978: They Called Them Spyder Pants
One of David's early creations was a blue racing pant with yellow striped protective pads. Skiers began calling them 'spider' pants, due to their spider leg-like appearance. David renamed the company in 1978. A passionate sports car fan, he borrowed the spelling with a 'y' from the Ferrari Spyder.
1980: An International Affair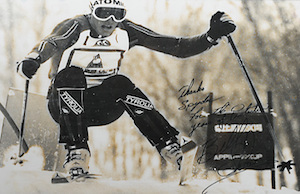 During the early 80's breakaway gates changed racing technique. The functional World Cup Pant became the most coveted gear by national teams. "Every team had to have it," said David. Teams sporting the pant included the Yugoslavs, Australians, Norwegians, Swedes, Canadians, and Americans.
(FYI:Traditionally, bamboo poles were used for gates, the rigidity of which forced skiers to maneuver their entire body around each gate.[3] The early 1980s, rigid poles were replaced by hard plastic poles, hinged at the base with a universal joint designed and patented by Peter Laehy and Stefan Dag in Aspen, CO. USA. Patent # 4,270,873.[4] The hinged gates require, according to FIS rules, only that the skis and boots of the skier go around each gate. via Wikipedia)
1985:  Spyder-Man, Not Spider Man
After Sports Illustrated called Steven Lee "Spider Man" after his World Cup win, Marvel Comics sent David a legal warning of trademark infringement. Before Marvel dropped action, David believed his business was doomed; "I thought everything collapsed." AJ Kitt ironically signed this six years later.
1988:  The Suits Take Over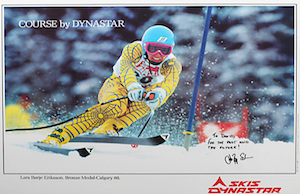 David's son Jake drew the first web on a solid suit in 1984 as a mock-up, launching web-graphic designs built to this day. Suits replaced padded slalom wear around 1988 when slalom racers began cross-blocking gates, not hitting the gates on their upper body, only on their lower legs.
1989: Spyder Signs On US Ski Team
Spyder became an official supplier to the US Ski Team in 1989, a relationship Spyder continues to support with great pride.
1994: Too Fast For Competition
David patented SpeedWyre, a revolutionary "trip wire" that reduced wind drag by up to 40%. US Ski Team members wearing SpeedWyre suits captured gold, bronze and fifth place in world championships over the next two years. FIS banned SpeedWyre in 1997, claiming that it gave skiers an unfair advantage.
(FYI: SpeedWyre  utilized a "trip wire" formed by a narrow seam on the surface of the legs and arms streamlined the surrounding air flow, significantly reducing wind drag by up to 40% in laboratory tests. via Wikipedia)
1998:  Freeski Apparel Arrives
Nothing less than a ski revolution, freeskiing took root. Spyder recognized the new ski genre and in 1998 introduced the Kreitler line, eponymous for pro skier Kent Kreitler, a member of the freeski vanguard. Shane McConkey and Kreitler moved from the pro mogul to and became sponsored Spyder pros.
2002: Spyder Signs Canada
As a youth David owned the title of Canadian Downhill Ski Champion, was the top-ranked Canadian FIS Team skier, and eventually became the first full-time head coach for the Canadian National Ski Team. In 2002, Spyder became a sponsor of the Canadian Alpine Ski Team, bringing David full circle.